Farabeen is a startup studio which designs and develops innovative apps on various verticals.
Zabanyad (one of Farabeen's product) was initially an Instagram page, teaching English using engaging and fun stories to hundered thousands of its followers.
My involvement with the Instagram page generally concerned Motion Design, Art Direction and Graphic Design. But sometimes I also suggested ideas for the contents.
The videos were filmed inside in-house studio set with green screen equipped with lighting and a standard microphone.
After my visual renovation for the Instagram page and the new visual direction, we saw a rapid growth from 150k of followers to more than 230k of followers in just a few months.
On the below section I have prepared a video demo reel from some of the posts that we have made during a quarter.
The page later led to development of a mobile application with the same name, which now has more than thousands of installs in well-known application stores.
I was also involved with the redesign of the app and website which I have explained more about on the UI page.
Demo Reel
Zabanyad also had a YouTube channel and we have created separate longer videos for this purpose.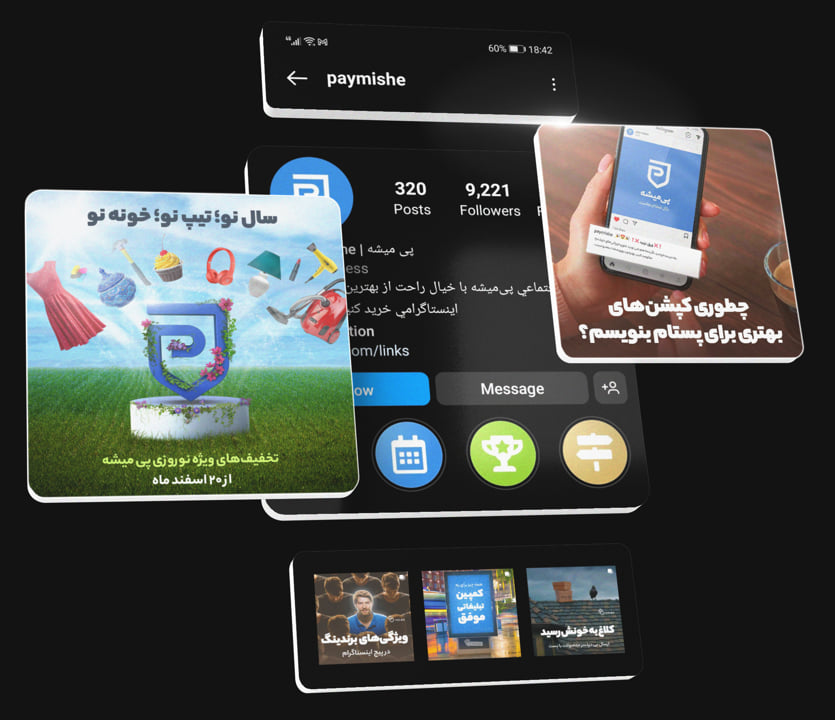 Paymishe was another product of Farabeen. It was simply a social commerce website allowing every person to have their own Internet shop without hassle.
My involvement with the Instagram, LinkedIn and weblog page was generally recreating a new visual language, art direction and creating Graphical and Motion Design based on the plan and schedule that the marketing team have prepared. In some cases I also edited or did the copy writing for the posts as well.
Type of posts were usually carousel educational post, mixed with occasional and promotional contents.
On the below section there are some samples of the posts I have created for Instagram, LinkedIn and the weblog, during the phase one plane of marketing.
Later, I was also tasked with the redesign of the user interface of the website which I have explained more about on the UI page.
Some examples of Graphic Design works for Paymishe and Zabanyad
Farabeen owned many other high profile Instagram pages which needed visual renovation as well.
As a solution and with focus on the legibility and aesthetic, I made many new unique Instagram post templates. As a result these pages experienced rapid growth and extreme positive feedback from the existing audiences.
Made with ❤️ using

Adobe Photoshop

Adobe After Effects

Adobe Illustrator

Adobe Audition
Adobe Premiere

Maxon's Red Giant VFX Plugins for Adobe After Effects